Art & Literature
By unereverence | On 02/12/2015 | In Art & Literature | Comments (0)
Illustration by Emma Florence Harrison
Young Love lies sleeping
In May-time of the year,
Among the lilies,
Lapped in the tender light:
White lambs come grazing,
White doves come building there:
And round about him
The May-bushes are white.
By unereverence | On 05/02/2014 | In Art & Literature | Comments (0)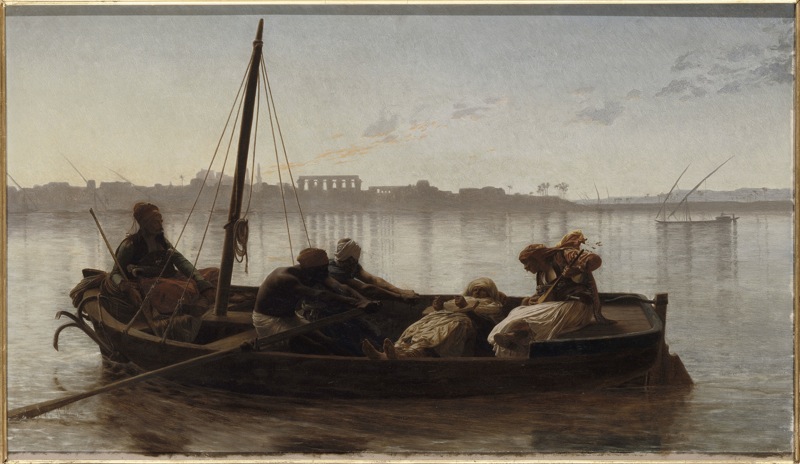 A Gérôme. (No available translation)

Là-bas, les muezzins ont cessé leurs clameurs.
Le ciel vert, au couchant, de pourpre et d'or se frange ;
Le crocodile plonge et cherche un lit de fange,
Et le grand fleuve endort ses dernières rumeurs.

Assis, jambes en croix, comme il sied aux fumeurs,
Le Chef rêvait, bercé par le haschisch étrange,
Tandis qu'avec effort faisant mouvoir la cange,
Deux nègres se courbaient, nus, au banc des rameurs.

A l'arrière, joyeux et l'insulte à la bouche,
Grattant l'aigre guzla qui rhythme un air farouche,
Se penchait un Arnaute à l'oeil féroce et vil ;

Car lié sur la barque et saignant sous l'entrave,
Un vieux Scheikh regardait d'un air stupide et grave
Les minarets pointus qui tremblent dans le Nil.
José Maria de Heredia, "Le Prisonnier", Trophées