Art & Literature
Jean-Léon Gérôme, Anacreon, Bacchus & Cupid, 1848, oil on canvas, 134 x 211 cm, Toulouse, Musée des Augustins
Poet of her face divine,
Curb this over-zeal of thine!
Doves wing frighted from the ground
At a step's too sudden sound,
And her passion is a dove,
Frighted by too bold a love.
Mute as marble Hermes wait
By the blooming hawthorn-gate.
Thou shalt see her wings expand,
She shall flutter to thy hand.
On thy forehead thou shalt know
Something like a breath of snow,
Or of pinions pure that beat
In a whirl of whiteness sweet.
And the dove, grown venturesome,
Shall upon thy shoulder come,
And its rosy beak shall sip
From the nectar of thy lip.
Théophile Gautier, "Odelet, after Anacreon", in Enamels & Cameos, from The Project Gutenberg
Jean-Léon Gérôme, The Prisoner, 1861, oil on canvas, 45 x 78 cm, musée d'Orsay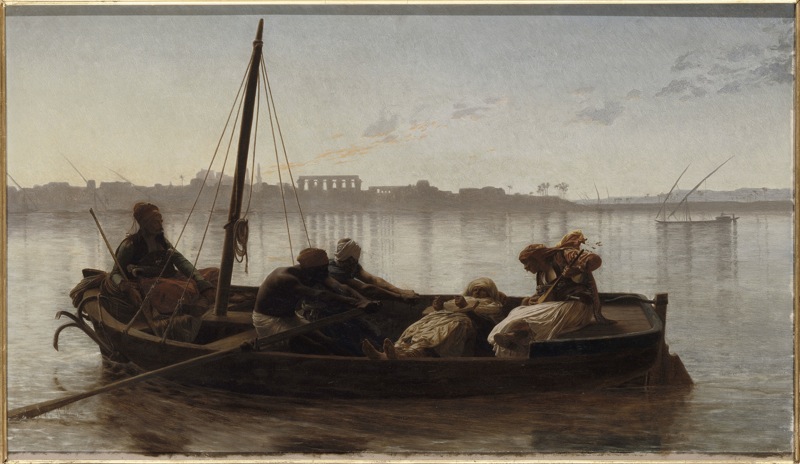 A Gérôme. (No available translation)

Là-bas, les muezzins ont cessé leurs clameurs.
Le ciel vert, au couchant, de pourpre et d'or se frange ;
Le crocodile plonge et cherche un lit de fange,
Et le grand fleuve endort ses dernières rumeurs.

Assis, jambes en croix, comme il sied aux fumeurs,
Le Chef rêvait, bercé par le haschisch étrange,
Tandis qu'avec effort faisant mouvoir la cange,
Deux nègres se courbaient, nus, au banc des rameurs.

A l'arrière, joyeux et l'insulte à la bouche,
Grattant l'aigre guzla qui rhythme un air farouche,
Se penchait un Arnaute à l'oeil féroce et vil ;

Car lié sur la barque et saignant sous l'entrave,
Un vieux Scheikh regardait d'un air stupide et grave
Les minarets pointus qui tremblent dans le Nil.
José Maria de Heredia, "Le Prisonnier", Trophées
Gustave Doré, The Enigma, 1871, huile sur toile, 130 x 195,5 cm, Paris, Orsay
"O spectacle ! Ainsi meurt ce que les peuples font !
Qu'un tel passé pour l'âme est un gouffre profond !"
Victor Hugo, "A l'arc de Triomphe", Voix Intérieures, 1837. (No available translation)
P. A. Steck, Ophelia, c. 1894, oil on canvas, Paris, Petit Palais
"Sous les porches d'azur où jamais le soleil

Ne dore des galets la candeur ivoirine,

Sous les nymphéas blancs teintés de sang vermeil,
Ophélie a fermé ses yeux d'aigue-marine."
End of a poem by Laurent Tailhade, "Les fleurs d'Ophélie", Vitraux, 1894 (No available translation)
Edward Robert Hughes, The Lady of Shalott, 1905, oil on canvas, Wadsworth Atheneum
There she weaves by night and day
A magic web with colours gay.
She has heard a whisper say,
A curse is on her if she stay
To look down to Camelot.
She knows not what the curse may be,
And so she weaveth steadily,
And little other care hath she,
The Lady of Shalott.
Alfred Lord Tennyson, "The Lady of Shalott" (part II), in The Lady of Shalott, and other poems, 1842
Rochegrosse, Martyr of a cathedral, 1915, oil on canvas, 100 x 73 cm, Musée des Beaux Arts de Reims
"Geignant dans sa charpente où passent les rafales,
De sa cloche fêlée où s'écrasent les balles,
Reims, Cathédrale, Reine entre les Cathédrales,
Cherchant le ciel des yeux crevés de ses vitraux
Est comme une martyre aux mains de ses bourreaux."
Sarah Bernhardt, novembre 1915. (No avaible translation)
William Hunt, The Light of the World, 1851-1853, oil on canvas, 125,5 cm X 59,8 cm, Oxford, Keble College
"Behold, I stand at the door and knock: if any man hear my voice and open the door, I will come in to him, and will sup with him, and he with me."
Revelation (Bible), III, 20